T31/4Bayonet Lamp


Solid-State White LED
Lamp illumination


Replaces all incandecent 6.3VAC or 12.6VAC

(Voltage Range is +/- 2.5VAC of above values)

T31/4 Style Bayonet based Incandecent Light Bulbs.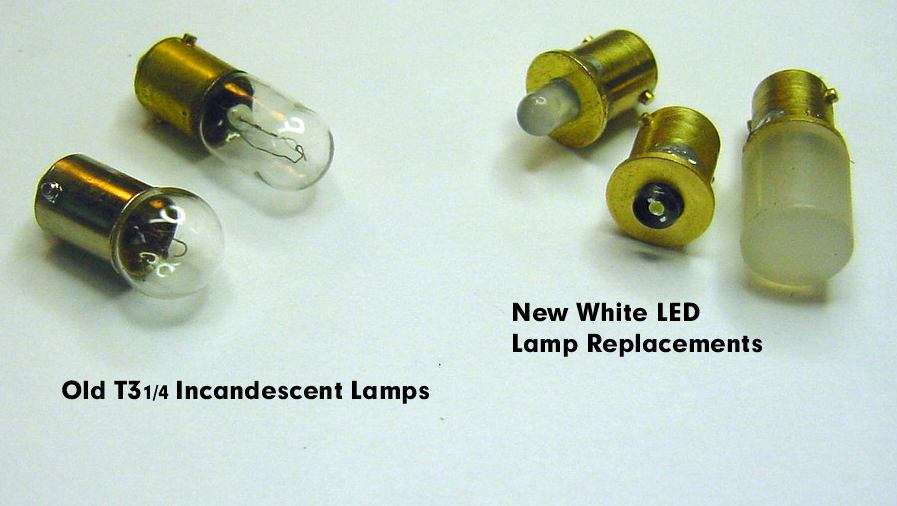 As I further my development into LED light replacements for older T31/4 based incandecent lamps I can now offer three white style replacements. Presented in two standard AC voltage ranges most often seen in vintage radio or audio equipment. Other voltage levels from 2VAC through 15VAC can be built upon request by emailing me at the link below.


Why replace incandescent lamps in older radios and electronic equipment?
- The life of an LED is longer than incandescent bulbs.
- You will save on current draw! The LED lamps only requires about 15mA whereas the original incandescent lamps can easily draw 100-200mA current. Less current draw results in less heat in the old power supply.
- Less heat! LED's run much cooler than light bulbs. Often light bulbs will "yellow" heat damage white illuminated display areas due to close proximity. This will not happen with an LED!
- Lamps are in difficult replacement locations. Often radios will require some disassembly of covers or shields to access lamps for replacement. Also, connecting wires can be damaged in tight areas. Thus we often see lamps that have long ago burnt out remain dark due to replacement difficulties. LED replacement lamps can provide a replace once solution!
- Provides a cleaner look. Since incandescent lamps emit light nearer to the red side of the optical spectrum they will light with a yellow glow. So when lighting white material it will still show up yellowish. These LED lamps are pure white light, so white lettering or background will illuminate white!





Offered in Three Styles



Diffused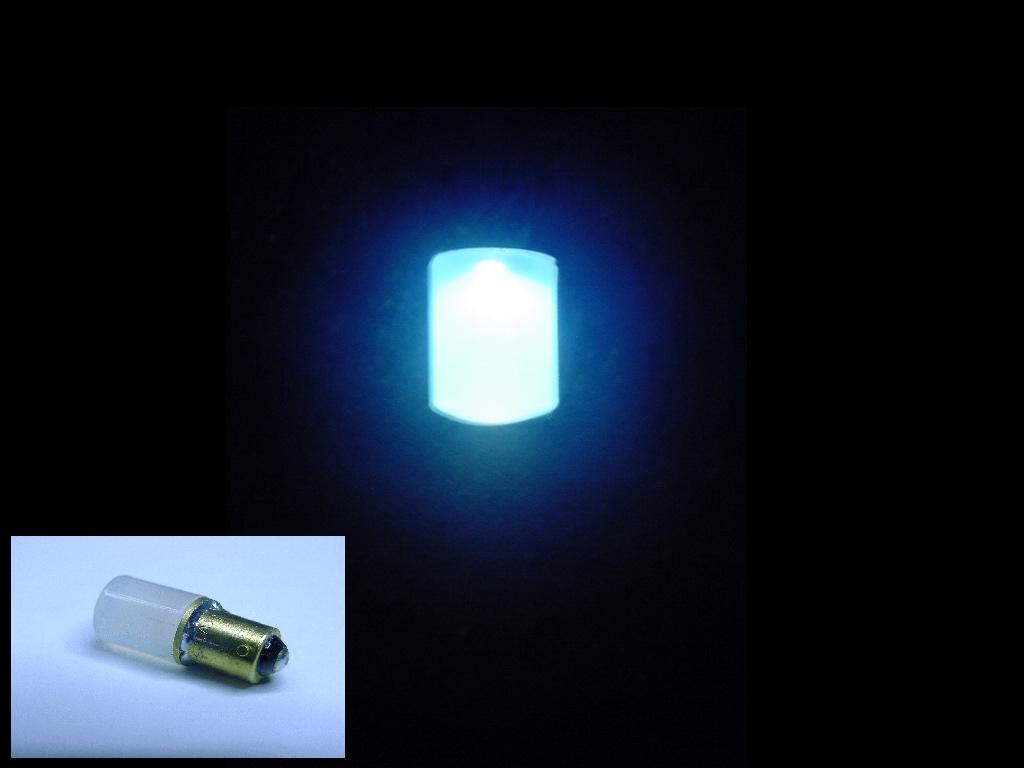 The emission from this lamp is very smooth and was designed for rear illumination of a semi-translucent scale or where limited illumination below the lamps base is required. Such as those used for frequency logging on radios. Typically this is a milky white plastic that is lettered in black or other dark color. When illuminated from the backside the material will glow to allow the printed characters to be seen in low room light conditions. Since this lamp has light emission that extends below the base it will allow good illumination when mounted at right angles to the area of interest.

The lamps dispersion lens is milled from solid semi-transparent plastic. It is not a hollow plastic covering! By using a solid lens material the emitted light is dispersed a full 360 degrees around the lamps sides and below the bayonet base line just like an incandescent lamp.

The diffusion lens requires an opening of 1/2 inch to facilitate the lens diameter when used in situations where the lamp is set through a chassis or cabinet hole.

Uses:
- Rear projection of semi-transparent glass or plastics such as the frequency readout dial assemblies used in Collins S-Line equipment or the Swan 350/500/700 series radios for example.
- Side mounted lamp sockets which may require light illumination below the base of the lamp. An example would be a meter which is illuminated from the top, but has a lamp socket that is side mounted.



Wide Angle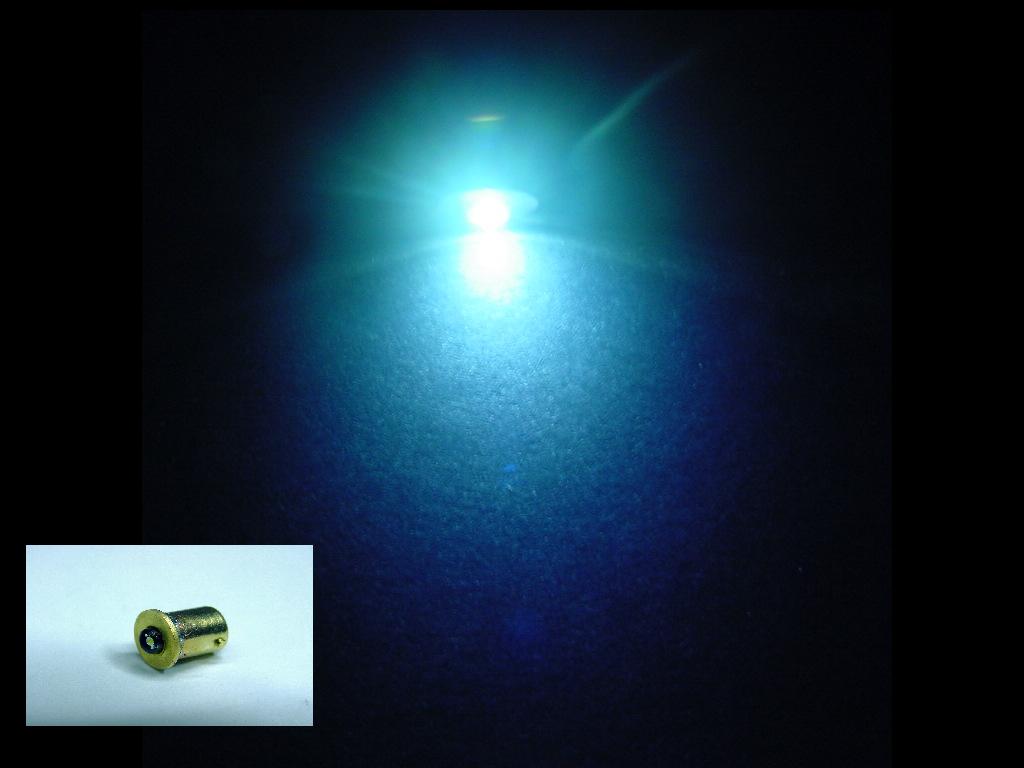 Using a low profile 5mm clear lens LED this lamp finds its use where a large angle of high intensity light it required. This lamp finds use when side lighting a dial display on a radio. Most often these frequency readout dial assemblies are made of metal or solid plastic plate. The lettering is then printed directly onto this plate. llumination of these dial assemblies is then achieved via incandescent lamps situated around the periphery of the plate, yet hidden by the front panel.

These lamps offer a dispersion angle of about 100 degrees.

Uses:
- Side flood illumination.



Frosted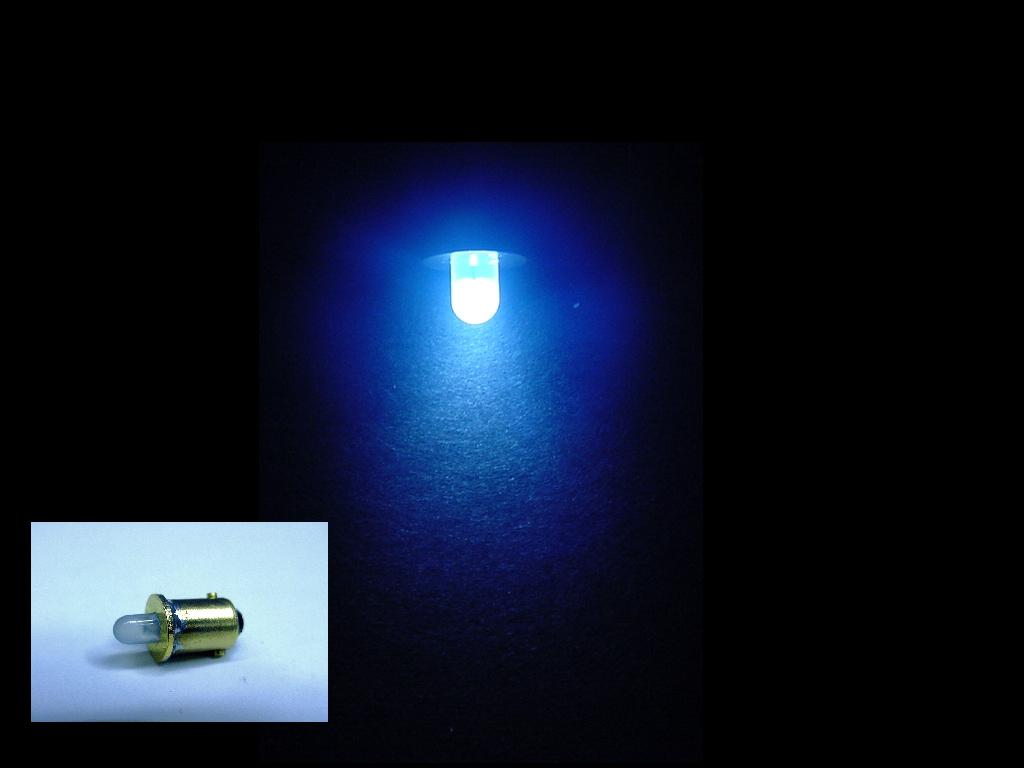 A soft diffused illumination similar to my larger diffused lens lamp above with a smaller beam area toward the top of the lamp. The actual illumination angle is between 55 and 65 degrees.
Uses:
- Internally lit meter lamps.
- Close proximity and tight area illumination. I use similar lamps on the Drake 4-line equipment for meter illumination either via the front or side of lamp.
These are not mass produced lamps. Each lamp is hand assembled in my shop. The bayonet bases are solid brass. Click on the picture below to see examples of white LED replacement lamp installations and a table of our ever growing manufacturer/model replacement list.


Simple to Install
Installation is straight forward and every attempt was made for ease of installation. These are direct lamp replacements and installation should be no more difficult than a normal lamp replacement
Ordering

Please Order Using these Part Numbers

PART NUMBER

Description

Price
(USD)

LPW-DIFFU6

Single 6.3VAC LED Diffused Lamp

$12.00

LPW-DIFFU12
Single 12.6VAC LED Diffused Lamp
$12.00

LPW-WIDEA6
Single 6.3VAC LED Wide Angle Lamp
$11.00

LPW-WIDEA12
Single 12.6VAC LED Wide Angle Lamp
$11.00

LPW-FROST6
Single 6.3VAC LED Frosted Lamp
$10.00

LPW-FROST12
Single 12.6VAC LED Frosted Lamp
$10.00

All products and parts are shipped at the rates shown below. There is no quantity limit for these rates. You can combine items from other pages on this site and all will ship together at this one rate!

Destination
Method

Cost
(USD)

U.S.A.

Priority Mail

$7.15
Canada

Priority Mail Flat Rate

$24.95
All Other Destinations

Priority Mail Flat Rate

$33.95
Send Check or Money Order (US Funds Only) to:
D.A. Buska Engineers LLC
4805 64th Avenue
Kenosha, WI 53144 U.S.A.

For immediate processing
we accept on-line orders and payments through
PayPal
when using the Order Cart below. You can change the order quantity if desired when you view the cart during check out. This order cart can be used throughout the many pages on this site so it is not necessary to
check-out
until you have ordered everything you need.
| | | | |
| --- | --- | --- | --- |
| Part Number | Price (Ea) | Range and Radio | Add to Cart |
| LPW-DIFFU6 | $12.00 | Single 6.3VAC LED Diffused Lamp | |
| LPW-DIFFU12 | $12.00 | Single 12.6VAC LED Diffused Lamp | |
| LPW-WIDEA6 | $11.00 | Single 6.3VAC LED Wide Angle Lamp | |
| LPW-WIDEA12 | $11.00 | Single 12.6VAC LED Wide Angle Lamp | |
| LPW-FROST6 | $10.00 | Single 6.3VAC LED Frosted Lamp | |
| LPW-FROST12 | $10.00 | Single 12.6VAC LED Frosted Lamp | |