Collins S-Line


Solid-State LED
illumination

Click on picture for an expanded view


Is it time to update your Collins S-line? I offer here the chance to replace the PTO and Meter incandescent lamps with modern plug-in-play solid-state LED lamp replacements. I have been offering such replacements for the Drake 4-line users and they have been received so well that I pursued designing similar replacement lamps for my own Collins S-Line. In the picture above the 75S-3 receiver on the left is using the original incandescent #47 lamps. The 75S-3C on the right uses my new white LED lamp replacements. Gone is the yellow glow and heat of the incandescents!

The life of an LED is longer than incandescent bulbs. You will save on current draw! The two LED lamps only require a total of 40mA whereas the original #47 lamps have a total of 300mA current draw. That's over one quarter amps less current draw from the power supply and negligible heat dissipation from the LED's.

PTO Comparison

Below is a picture of the before amd after pictures of the Solid-State LED lamp replacement. Click on either picture for an expanded view.

| | |
| --- | --- |
| Original Incandescent | New LED Lamp |

Collins S-Line Kit
One Set Supports One Transceiver, Transmitter or Receiver.
A Collins 75S/32S Pair will require Two (2) Sets.

One Frosted LED Bayonet Lamp
One Diffused Lens LED Bayonet Lamp
Full Installation Instruction Sheet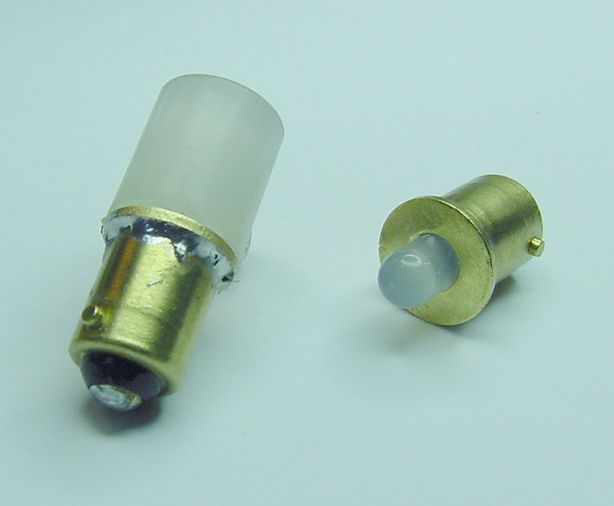 Analog Display (PTO) Lamp (Above Left) Meter Lamp (Above Right)

Built With A Purpose


These are not mass produced lamps. Each lamp is hand assembled in my shop. The bayonet bases are solid brass. The meter lamp uses a frosted lens LED. The analog display (PTO) lamp has a special manufactured diffusion lens which surrounds the LED. This dispersion lens is milled from solid semi-transparent plastic. It is not a hollow plastic covering! By using a solid lens material the emitted light is dispersed all around the lamp, even below the base line.

Simple to Install
Installation is straight forward and every attempt was made for ease of installation. This is a direct lamp replacement and can be performed at the same speed as changing the original incandescent bulbs.

Ordering

Please Order Using these Part Numbers

PART NUMBER

Used In

Price
(USD)

MOD-SLINESET

S-Line LED Lamp Set
KWM-2, KWM-2A
75S All, 32S All
312-B5 and 30S-1*

* - requires two sets per 30S-1

$22.00

LPW-DIFFU6
Single PTO LED Lamp
399-1

$12.00

LPW-FROST6
Single Meter LED Lamp
30L-1 and 312B-4

$10.00

Notice: There is no LED set for the Collins 51S-1 receiver. That receiver uses a series connected chain of tube filaments and light bulbs to determine the corresponding voltage drops. My LED's can not be used in place of the original light bulbs in this case!

All products and parts are shipped at the rates shown below. There is no quantity limit for these rates. You can combine items from other pages on this site and all will ship together at this one rate! All items shipped boxed.

Destination
Method

Cost
(USD)

U.S.A.

Priority Mail

$7.15
Canada

Priority Mail Flat Rate

$24.95
All Other Destinations

Priority Mail Flat Rate

$33.95
Send Check or Money Order (US Funds Only) to:

D.A. Buska Engineers LLC

4805 64th Avenue

Kenosha, WI 53144 U.S.A.






For immediate processing

we accept on-line orders and payments through

PayPal

when using the Order Cart below. You can change the order quantity if desired when you view the cart during check out. This order cart can be used throughout the many pages on this site so it is not necessary to

check-out

until you have ordered everything you need.

Part Number




Price (Ea)




Range and Radio




Add to Cart



MOD-SLINESET

$22.00

S-Line LED Lamp Set
For 75S, 32S, KWM-2(A),
312B-5 and 30S-1*


LPW-DIFFU6
$12.00

Single PTO LED Lamp
For 399-1

LPW-FROST6
$10.00

Single Meter LED Lamp
For 30L-1 & 312B-4