Drake 4-Line


Solid-State Blue LED
illumination

Drake has used blue filters since the days of the TR3 transceiver. This continued into the later 4-Line and 7-Line equipment. The problem occurs in later years when the blue filters begin to change and the displays end up looking green. Since the meter and frequency displays are illuminated by incandescent lamps they emit a glow that leans toward the red end of the emission spectrum. Thus a blue filter being back lit by a yellow/red glowing filament will naturally result in a greenish illumination. In the past people would replace the blue filters with newer and perhaps darker blue filters. This was a step in the right direction, but you are still stuck with a light bulb that will eventually burn out and require replacement.





As a replacement for the blue filters I have developed a Blue illumination kit to replace the existing incandescent bulbs provided with the 4-Line equipment. The kit consists of two custom manufactured LED lamps designed as plug-in-play replacements for the original #47 incandescent bulbs. The new LED lamps use the same style bayonet bulb base as the originals. There is no need to replace or add additional gel filters, best results are obtained by removing the original filters all together!

The life of an LED is longer than incandescent bulbs. You will save on current draw! The two LED lamps only require a total of 40mA whereas the original #47 lamps have a total of 300mA current draw. That's over one quarter amps less current draw from the power supply and negligible heat dissipation from the LED's.




| | |
| --- | --- |
| Before | After |

Drake 4-Line Kit
One Set Supports One Transceiver, Transmitter or Receiver.
A Drake Line Pair will require Two (2) Sets.

One Frosted Blue LED Bayonet Lamp
One Diffused Lens Blue LED Bayonet Lamp
Full Installation Instruction Sheet

Notice: The Drake T-4XC Transmitter and the RV-4 series VFO use different lamp styles from all other 4-line equipment. Each uses different part numbers when ordering below.

For equipment that use two or more LED's always replace all light bulbs with LED's at one time! Some of the Drake equipment will run two 6.3VAC light bulbs in series across a 12.6VAC source and thus the proper voltage division will depend on a matching of the lamp resistances. If you attempt to use one LED and a second incandescent light bulb this voltage division will not be equal and you run the risk of damaging the LED.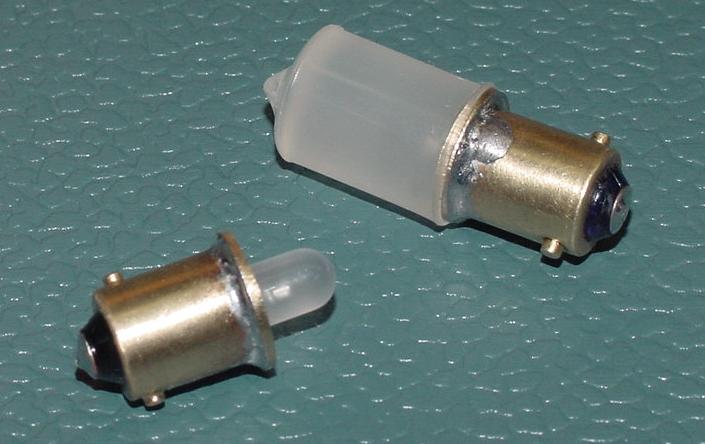 Meter Lamp (Above Left) Analog Display (PTO) Lamp (Above Right)

Built With A Purpose


These are not mass produced lamps. Each lamp is hand assembled in my shop. The bayonet bases are solid brass. The meter lamp uses a frosted lens blue LED. The analog display (PTO) lamp has a special manufactured diffusion lens which surrounds the blue LED. This dispersion lens is milled from solid semi-transparent plastic. It is not a hollow plastic covering! By using a solid lens material the emitted light is dispersed a full 360 degrees around the lamps sides and a full 180 degrees toward the top side. The picture below demonstrates how well this custom dispersion lens works installed in the Drake R4C receiver. The picture is taken from the side of PTO assembly with the top receiver case cover removed.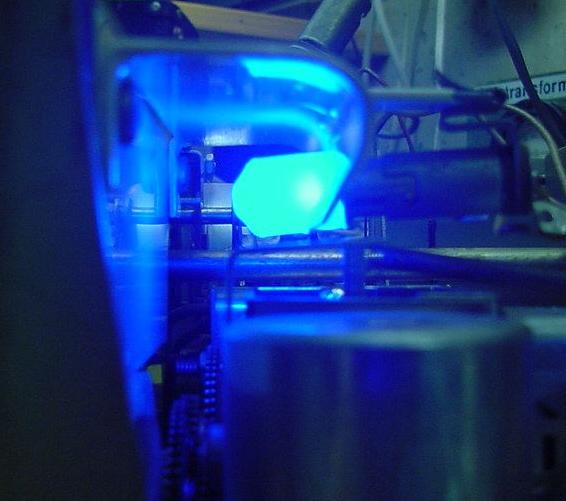 Simple to Install
Installation is straight forward and every attempt was made for ease of installation. This is a direct lamp replacement and can be performed in about five minutes.


Ordering

Please Order Using these Part Numbers

PART NUMBER

Used In

Price
(USD)

MOD-4LINESET
Lamp Set 4-Line (Excludes T-4XC)
TR-3, TR-4, TR-4A, TR-4B, TR-4C, TR-4CW, TR-4CW/RIT, TR6
R-4, R-4A, R-4B, R-4C, SW-4A
T-4X, T-4XA, T-4XB

$14.95

MOD-T4XCSET

Lamp Set T-4XC Only
T-4XC

$14.95

MOD-4LINEMTR

Individual 4-Line 6.3VAC Meter
T-4 Reciter

$9.00

MOD-4LINEPTO

Individual 4-Line 6.3VAC PTO
L-4, L-4B (See FRQ's above)
C-4 Console (Meter)

$11.00

MOD-RV4PTO

Remote VFO PTO Lamp
RV-4, RV-4B, RV-4C, RV-6
$11.00

All products and parts are shipped at the rates shown below. There is no quantity limit for these rates. You can combine items from other pages on this site and all will ship together at this one rate! All items are shipped boxed.

Destination
Method

Cost
(USD)

U.S.A.

Priority Mail

$7.15
Canada

Priority Mail Flat Rate

$24.95
All Other Destinations

Priority Mail Flat Rate

$33.95
Send Check or Money Order (US Funds Only) to:
D.A. Buska Engineers LLC
4805 64th Avenue
Kenosha, WI 53144 U.S.A.

For immediate processing
we accept on-line orders and payments through
PayPal
when using the Order Cart below. You can change the order quantity if desired when you view the cart during check out. This order cart can be used throughout the many pages on this site so it is not necessary to
check-out
until you have ordered everything you need.
| | | | |
| --- | --- | --- | --- |
| Part Number | Price (Ea) | Range and Radio | Add to Cart |
| MOD-4LINESET | $14.95 | Lamp Set 4-Line (Excludes T-4XC) | |
| MOD-T4XCSET | $14.95 | Lamp Set T-4XC Only | |
| MOD-4LINEMTR | $9.00 | Single 4-Line Meter Lamp | |
| MOD-4LINEPTO | $11.00 | Single 4-Line PTO Lamp | |
| MOD-RV4PTO | $11.00 | Single RV-4 Series PTO Lamp | |

User Comments
I received the LEDs for the Drake R4C today. Put them in and I am very pleased with your product!! I took out the old blue filter as you suggested, put in the LEDs , fired it up and instant blue. A fine product and I must say tnx for sharing this product of yours with other Drake users. Will spread the word!! 73 & tnx--Terry N4SUB
The LEDs arrived here safe and sound. WOW! Do they look nice. - Chuck K4QS
They are already glowing! Looks great; congratulations on a bright idea.
73's Carlos KP4GL
I just finished the last Drake rigs with the blue LED kits. I have attached some photos, although I don't think the pictures look near as good as the finished product.. The radios look great and even the XYL was complimentary! - Mike W4DL

I wanted to thank you for elevating my Drake line to a whole new level. Those bulbs really make me feel as if I have purchased a whole new classic line! I installed them in the following TR4C, RV4C, R4B, R4 and T4X. What fun operating in the dark with only the glow from the tubes and front panels!! - Peter WA1ISA

Somes days ago, I received the LEDs for my Drakes R4-C and SWA-4. I took out the old blue filter as you suggested, put in the LEDs , fired it up and I saw a glamour blue! ! ! A fine product , I am glad. Thanks!!!
73's QRO de F1CDW / Francois ............ from FRANCE

Just a note to tell you how pleased I am with your blue LED lamps. I installed them in my Drake L4 amp and they look great. I'm planning on picking up a mint C-line from a local ham in the near future and will definitely get some more of your LEDs for that pair.
Thanks again, 73, Stew K3ND

My new lamps arrived today, the installation in my R-4C was a breeze (I did remove the blue cellophane filters as recommended), and the results are beyond my expectations! My radio now looks like a new one. - Doug WW6D

Just wanted to pass on my thanks for your LED Lamp Set. The packaging/directions were very well done. 1st class all the way. Install took less than 10 minutes and now my R4A has a wonderful glow to it. - Mick W8MLS

Wow, what a difference in my TR-4 & RV-4, even the XYL gave her approval! Excellent correspondence and a professional instruction book. I can see you take pride in what you do. Consider me a "happy" customer. If anymore Drakes come my way, I'll be reordering. - Mike N0BAV







Return to Kits - Mods - Products Page